EicasLab commercial edition supports you in all the phases of the design process by means of a large variety of tools and features.
EicasLab has a modular structure that allows you to build your personal development environment with the tools specifically useful for your application. The core of the EicasLab suite is EicasLab base, the EicasLab software implementing the basic features able to build your own control algorithm. It represents a prerequisite for all the EicasLab modules. Then you can add modules providing further professional functionalities devoted to specific phases of control design (Model Parameter Identification, Control Parameter Optimisation, Rapid Control Prototyping, Hardware-in-the-loop and Final Validation Test) or to specific fields of interest. In this way you can tailor your control design environment on your needs.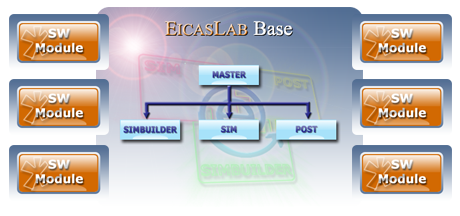 If you need a further customisation, you can directly contact us, we will be glad to help you. We provide services able to support you in your applications.