EicasLab Demo: Rotating Table
Design and validate the rotating table control in simulation
EicasLab Demo is a freeware edition of EicasLab Suite, designed with the aim of showing you the potentiality of the Modeling and Like Real-time Simulation operating mode on the control design for the rotating table application case.
EicasLab Demo shows you how EicasLab Suite can help you in control design and simulation, by presenting a comparison of the most common control algorithm techniques, applied to a "rotating table" single axis control application. The control has been designed on the basis of a "simplified model" and applied to a simulated "fine model" of the rotating table. The "fine model" includes frictions, backlash, elasticity and hysteresis affecting the transmission from the motor and the table.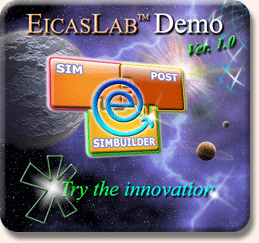 Different control architectures are considered (varying the measured rotation angle) and different control algorithms are compared:
PID: Proportional Integrative Derivative control algorithm
Classical model based control: based on state observer and state control
EICAS model based control: developed following the EICAS Control design methodology
Moreover, the possibility to program an "User" control by adopting any one of the considered control architecture is given, in order to allow you to build your own control algorithm and to perform comparison with the other predefined test cases.
Media Section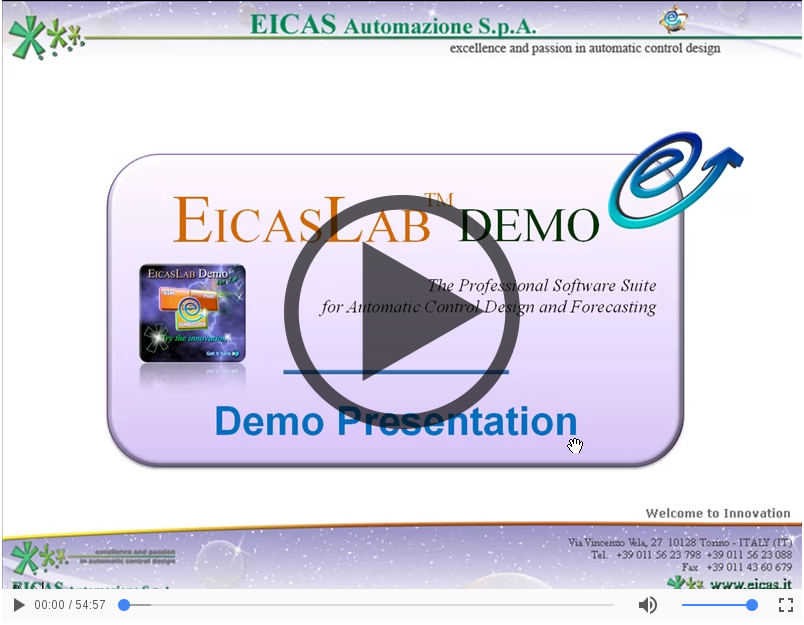 Download the software
The EicasLab Demo is available both for Linux and for Windows
Linux version
Rotating Table Demo - Linux Installer - You need to login to download this object.
Minimum requirements
x86 processor architecture;
any Linux distribution;
1GB RAM;
1GB disk space.
NOTA BENE: EicasLab Demo was compiled for 32-bit Operating System. Running it on 64-bit architectures might require the installation of 32-bit libraries. In case of problems in finding the correct libraries please contact us.
Windows version
Rotating Table Demo - Windows Installer - You need to login to download this object.
Minimum requirements
Microsoft Windows XP, or 7, or 8, or 10;
1GB RAM;
1GB disk space.
The EicasLab Demo version for Windows requires that on your PC are installed the following software packages of third parties provided under their own licence agreement, namely:
MinGW
Xming
Xming-fonts
a set of X libraries that we have already compiled and included in our MinGW package
The above EicasLab Demo installer, will automatically install the listed packages if they are not found in your PC.
Documentation