What is EicasLab?
The professional software suite for automatic control design and forecasting.
EicasLab represents an innovative approach to the design of automatic controls in several fields (e.g. robotics, aerospace, automotive, machine tools, special purpose machines...).
EicasLab supports the automation of industrial processes through powerful tools for modelling plants, designing and testing embedded control system architectures.
EicasLab assists all the phases of the control design process: from system concept to generation of the code to be transferred in the final target.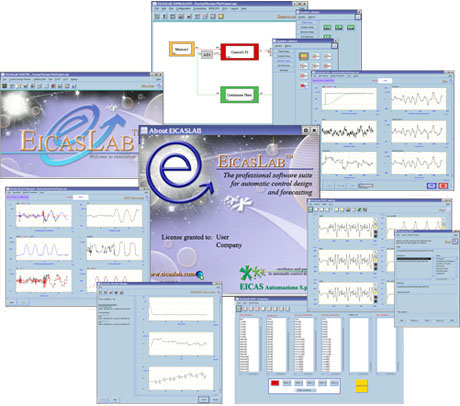 EicasLab drives you step-by-step in the control design process, offering a specific professional support for the following three phases of work:
Modelling and Like Real-time Simulation;
Rapid Control Prototyping;
Code generation for the final target.
Automatic Algorithm & Code Generation, management of multi-processor architectures and multi-level hierarchical controls, Rapid Control Prototyping and Hardware-in-the-loop are part of the overall capabilities offered by the EicasLab suite. All you need is integrated in just one suite.
EicasLab enables to improve the performance of your machine and to reduce the time-to-market, with tangible advantages in terms of costs/benefits. Furthermore, in combination with the EICAS control design methodology — supported by strong theoretical fundamentals — EicasLab offers guaranteed performance without the need of an experimental set-up in field.